SKOLKOVO Practicum Programme Wins EFMD Excellence in Practice 2020 Gold Award
Thursday, 14 May 2020
Moscow, May 14, 2020. – Every year the best cases of the leading business schools or corporate universities receive the international EFMD Excellence in Practice Awards. This year, the SKOLKOVO programme for entrepreneurs' case has won the Gold Award in the special category Ecosystem Development. The programme, which has truly become the best-in-class for Russian entrepreneurs, is now internationally recognized.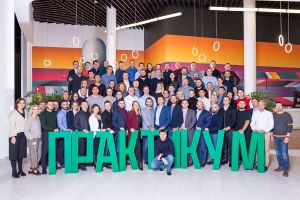 About the Case
In 2013, Moscow School of Management SKOLKOVO launched an educational programme titled Practicum for Managing Owners of Small and Medium-Sized Businesses.
The Association of Entrepreneurship Development "SKOLKOVO Community" also supported the programme. For 7 years, the Practicum has been focusing on business thinking, thus helping managing business owners, CEOs and their top teams to rebuild business models and transform the business through work on a personal project in an environment of like-minded people. By June 2020, the number of graduates will have exceeded 700 people from 75 cities and 11 countries.
Over these 7 years, the programme has been providing insights for entrepreneurs from most Russian industries: construction, retail, IT, finances, logistics and services for business as well as FMCG, HoReCa, metal production, automotive and agricultural sectors.
Participants complete the programme with projects of different scale and type and are willing to recommend it to other entrepreneurs. NPS, or willingness to recommend the programme, is 9.2 out of 10. 70% of potential programme participants join the programme based on recommendations of the graduates, and the number of participants grows steadily.
SKOLKOVO Practicum programme graduates stay in touch with the School, and we rejoice at their success. 83% of them open new businesses and 34% launch new lines in the existing business. Many graduates become trendsetters for other entrepreneurs. On average, their companies' turnovers increase from 20 to 60%.
Professors and experts are an essential resource for programme participants. Among them are business practitioners Alexander Tildikov, Aleksey Komarov, Gennady Stankevich who analyse and share their experience and teach how to use the tools in real business practice effectively. The programme unites a team of educational designers-professors, including methodologists, moderators, role players, experts, and entrepreneurs. They do not just transfer the knowledge but help change the mode of thinking, teach on how to create models, schemes and build new expertise and solutions.
SKOLKOVO Practicum programme allows participants to develop a personal business scheme thoughtfully and safely.
Graduates in the Practicum Programme's Case:
Irina Palchikova, managing business owner of Russian Bespoke—production of customized furniture—and a Practicum-14 graduate.
She increased her business turnover by 33%, from 180 to 240 M rubles per year. The number of employees increased from 50 to 70 people. Irina Palchikova opened her own store, participated in international exhibitions, and started a business project in Qatar.
Denis Dobryakov, founder of Artskils—production and marketing of customized gifts and souvenirs through own online shop—and a Practicum-13 graduate.
Denis Dobryakov has become an investor in two companies, raised investments in three companies and switched from production to IT—established an IT startup called Eggheads. The entrepreneur has raised his annual turnover from 70 to 310 M rubles.
Andrei Sharonov, President of Moscow School of Management SKOLKOVO:
"For the last 7 years, the Practicum programme team has been helping entrepreneurs build business processes and develop their business. The Programme's objective was to provide entrepreneurs with new and practical knowledge and a set of necessary tools. We were constantly changing and modifying the programme, and the programme was growing and developing just as our participants were. As the number of success cases of the graduates increased, the programme gained major attention from the Russian society of entrepreneurs. Today, we are proud to win one of the main international business case competitions—EFMD Excellence in Practice Awards—and get high appreciation of our efforts. I thank the Practicum programme team for ambition, patient work and desire to move forward".
Elena Bondarenko, General Producer of Small and Medium-Sized Business Programmes of Moscow School of Management SKOLKOVO:
"From the first day of the Practicum programme, we set out to develop an educational ecosystem for entrepreneurs—a specific environment for communication, exchange of ideas, support and development. We had to create it from scratch, put all the effort and time to accomplish this project and make it prominent in the market. Today, we see what our graduates have achieved, and we are confident that entrepreneurs can and should be educated in ecosystems. The EFMD Excellence in Practice 2020 award in the special category Ecosystem Development serves as a recognition of our efforts and another proof that our idea is correct".
The Excellence in Practice Awards annual competition of cases recognizes the best achievements in business education and organizational development as well as efficient partnerships between educational institutions and corporations.
This year, other winners of the competition, apart from SKOLKOVO Business School, include Unilever Brasil Industrial & Fundação Dom Cabral (Brasil), oil and gas company Pertamina, INSEAD (France), Deloitte, Tjitra and Associates Consulting & Bob Aubrey Associates, Standard Bank, Gordon Institute of Business Science (RSA) and Henley Business School (UK), ArcelorMittal and EF Education First.
The full list of 2020 FMD Excellence in Practice Awards winners is available at the Association's website. The winners will be invited to the online EFMD Executive Development Conference which is scheduled for October 21-23, 2020.
Programme background:
SKOLKOVO Practicum programme is aimed at development of business thinking and transformation of business in ever-changing environment. The programme design includes 5 modules: market, client, product, business model and resources. Participants investigate their own business based on these topics. SKOLKOVO Practicum includes 5 months of education: 5 educational modules, 3-4 weeks of intermodular work developed according to an individual accompanying track.
EFMD is an international association uniting business schools, corporate universities, consulting companies and employers' associations. Its objective is to establish quality standards in business education. EFMD has been existing for over 30 years and unites over 900 institutions in 86 countries. Moscow School of Management SKOLKOVO and EFMD started cooperation in 2009, and in spring 2017 the business school has become a full-fledged member of the Association.
---
Additional materials:
---