How to make an IT revolution in a company and not ruin anything
PwC estimates that the pandemic has accelerated digitalization in 40% of international and 28% of Russian companies. How to avoid mistakes going this way? Evgeny Kaganer, professor and academic director for innovation in the teaching process at SKOLKOVO Business School, comments on "healthy" transformation and gives examples from the world practice.
Why you need to go digital
Why do companies digitize their processes and services at all? There are three scenarios when this step is justified.
The first case is an attempt to catch up with active smartphone users. B2C has some vivid examples, especially in education and finance. The transformation case of the Development Bank of Singapore (DBS) recognized as one of the best banks in the world has become iconic. At the moment more than 95% of conventional bank operations there are carried out digitally while DBS operating costs and revenue ratio amounts to 34%, which is 20% less than in traditional banks.
The second scenario is related to the shift in competition: in metallurgy, mining, and chemical industry, it happens at a very thin margin. Companies have to go digital as this is the only way to boost their profit. One good example on the Russian market is Gazpromneft creating digital twins of deposits and using machine learning to search for hidden oil reserves. The launch of the digital logistics system has helped the company reduce the cost of oil export from the Arctic by 10% and cut down the cycle of geological analysis from 6 months to 1–2 weeks.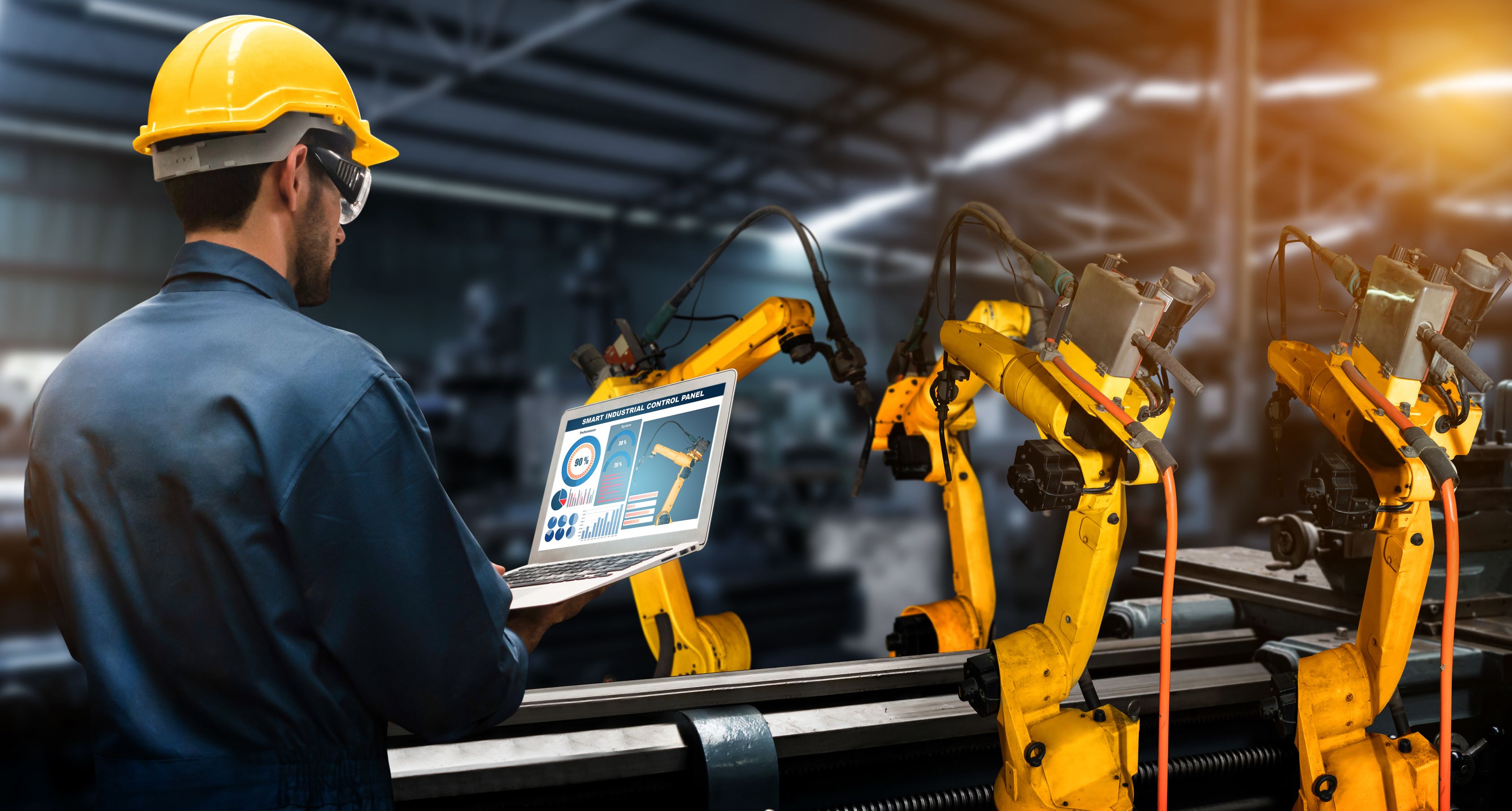 Source: Shutterstock.com
Another reason is shifting from the traditional product competition. Both in Russia and globally, we have witnessed the emergence of comprehensive digital platforms, such as Sber and Yandex ecosystems. There is no other option but joining them if a company does not want to lose access to clients. Yet, this kind of cooperation requires a radical change in technology infrastructure and staff skill set.
The expected impact of Covid on different industry sectors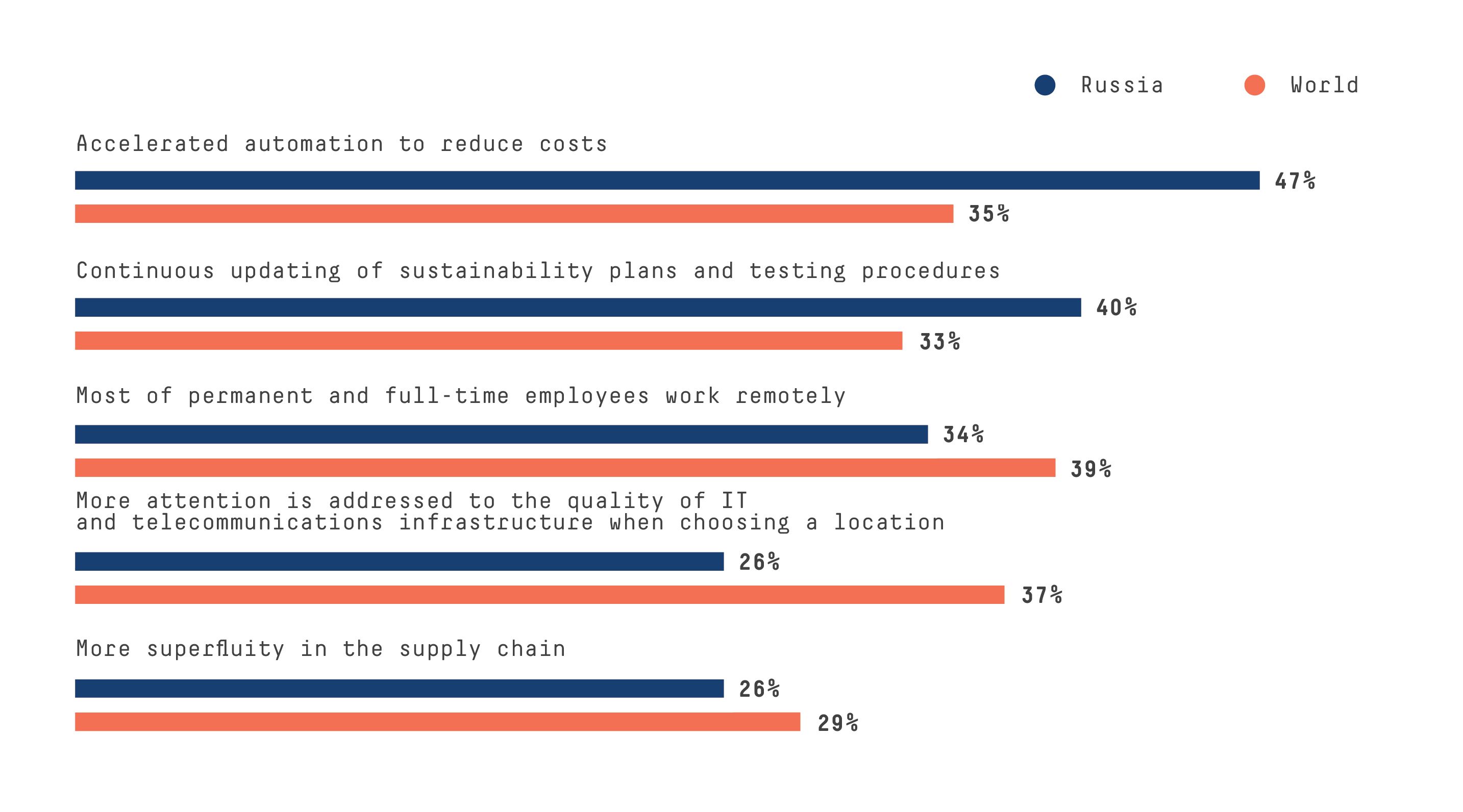 Source: PwC Global Digital Trust Insights Survey, October 2020
Who should participate in business automation
Global experience has shown that it takes active involvement of both top management and ordinary staff for a successful digital transformation. For companies creating digital products that get directly to customers, it is easier to take a step forward. In their case, the need for change is much more obvious. If by 2020 a bank still does not have a mobile app, staff at any level can tell that the company is lagging behind. In businesses having less direct contact with the end user and working with a physical product (for example, metallurgy, manufacturing, and other industries), digitalization is initiated by the management.
Who is responsible for digital transformation in Russian companies and who manages it

Source: Digital transformation in Russia 2020, KMDA analytical report (% of survey participants)
In the case of the above-mentioned Singapore´s DBS, management initiatives were actively supported by the whole team: it took them half a year to just define "Asian service". The quest resulted in the RED acronym (respectful, easy to deal with, and dependable) that became a part of corporate vocabulary. Employees participated in regular workshops trying to figure out at what stages their customers were wasting time—now DBS saves 250 million customer hours per year.
Russia and Europe share a different experience: this country's mindset does not imply unconditional support to the management; therefore, it takes longer to convince personnel in the need for transformation. Still, successful transitions are not that rare among traditional companies: Gazprom Neft, Severstal, Norilsk Nickel, Evraz are but a few good examples.
Digitalization status in Russian companies

Source: Digital transformation in Russia 2020, KMDA analytical report (% of survey participants)
How the role of IT departments is changing
IT departments play a significant role in companies that undergo digitalization. They are still responsible for maintaining key IT infrastructure that all business processes depend on and also help other departments with their IT issues.
This requires a transition from monolith to modular IT infrastructure. In other words, a company creates a "sandbox", a separate testing environment for developers to experiment and work on new customer solutions. It is worth mentioning that the testing site does not undermine reliability of the main IT system as they do not interfere with each other. When testing is over, the new functionality can be easily "plugged" in the corporate IT infrastructure.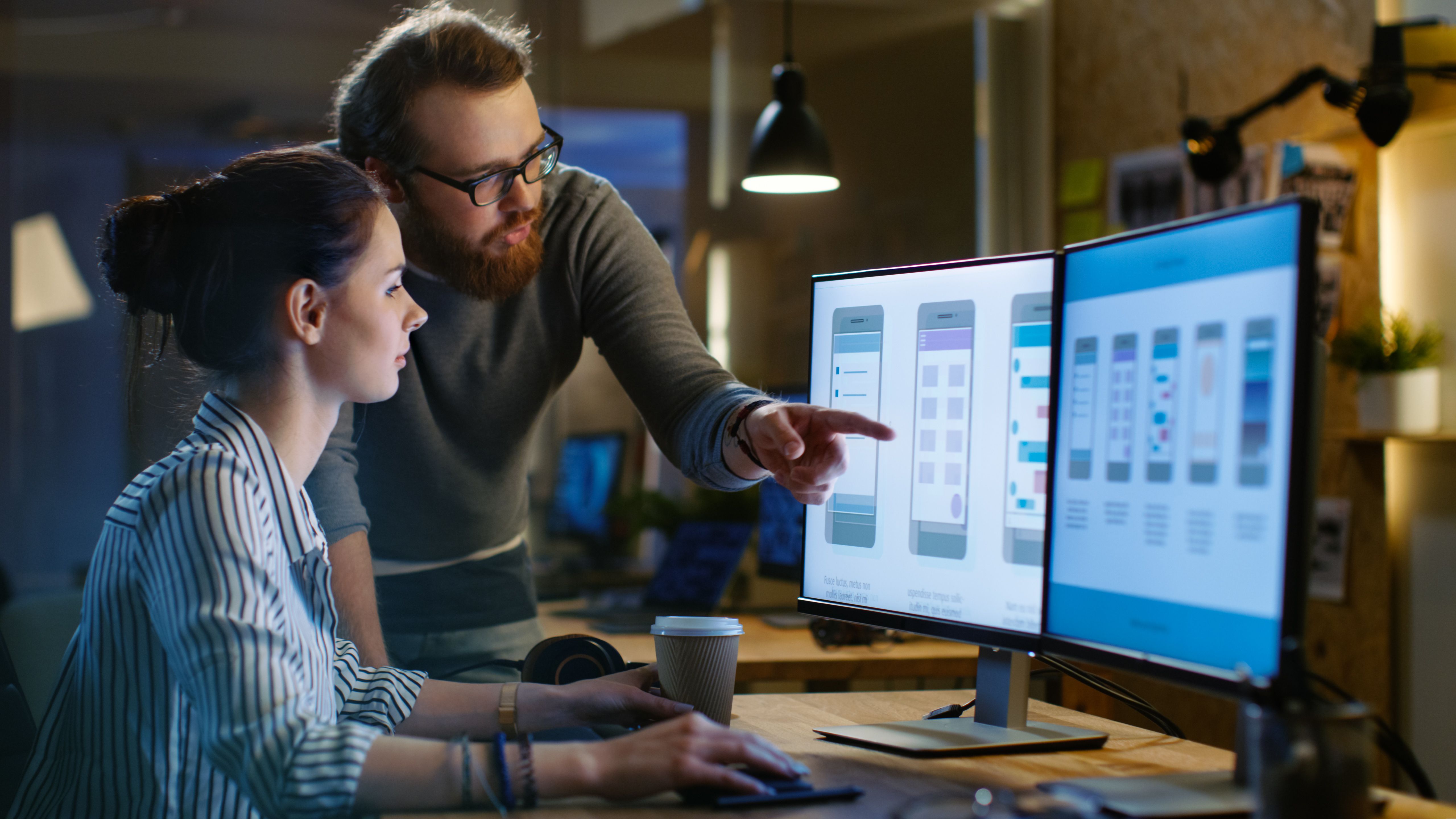 Source: Shutterstock.com
How to speed up change
Can employees of non-specialized departments take up the functions of IT personnel and do programming at all? Yes, thanks to the IT consumerization trend. In its narrow sense, it means that employees can use their consumer technology solutions for office work. For example, personal laptops for work, social networks for headhunting, messengers for communication with clients. Hence the concepts of BYOD (Bring Your Own Device) and BYOA (Bring Your Own Application). BYOD is already used by 59% of companies that save an average of $350 per mobile employee.
In a broader sense, IT consumerization means mass availability of technologies both in terms of use and in terms of development. Clients and members of the team themselves are less likely to wait for the heavy-footed company's IT Department assistance as development environments and SaaS-solutions are widely available to the public. Today, a lot can be done "at bench scale" and instantly delivered to a client.
This does not mean though that IT consumerization makes the IT Department unnecessary. On the contrary, its task is to strike the right balance between initiative by employees, reliability of technical infrastructure, and security requirements. This means that IT governance requires a shift to platform strategy.
How to avoid mistakes
Here are a few simple rules.
Rule # 1: Understand why your business needs digitalization
The most common reason for the companies to be stuck in their ways is the lack of answer to the question "Why do we need this?". Put up one or two sentences clear to everyone in the company on how digitalization is helping to change the company's mission, goals, and vision. For example, information giant Financial Times have decided that they want to be available to their readers anywhere, even where there are no newsstands, and therefore invested in the development of their digital channels. The company created a website that takes 1.5 seconds to load on a computer and 2.1 seconds to load on a smartphone. It increased reader engagement by 30% and brought in 14% more of digital subscriptions.
Key obstacles to digital change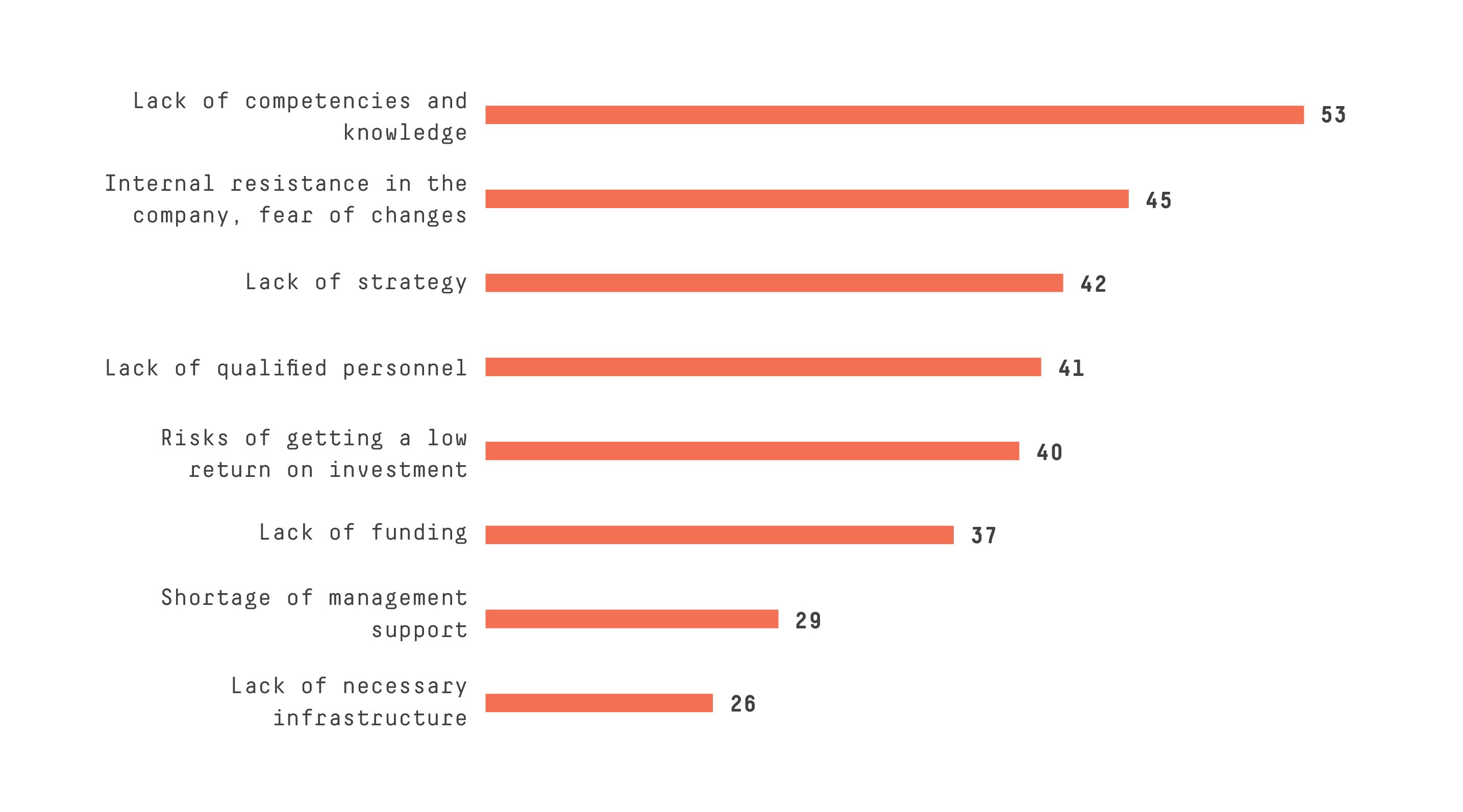 Source: Digital transformation in Russia 2020, KMDA analytical report (% of survey participants)
Rule # 2: Involve more than just managers
Dedicated involvement of top management launches digital transformation, but only employees can implement it: they must fill the agenda with specific ideas and initiatives.
Rule # 3: Support your team
Ground-level employees have a better vision of what there is to be improved with technology and how. But they definitely need help: at the start, they will not have enough competencies, time, and resources.
Training staff and changing their work practices is immensely time- and money-consuming. For example, Walt Disney World in Florida had to train 70,000 employees to prepare them for the launch of the MyMagic+ system that cost $1 billion. L'Oreal Group, in its turn, hired 2,500 digital experts to train their staff in technology.
Rule # 4: Change your planning approach
In the process of switching over to digital, it is important to maintain long-term planning when it comes to technological architecture stack. At the same time, shorter planning horizons of 1–1.5 years are essential to evaluate initiatives by development teams and make decisions regarding their implementation.
Rule # 5: Manage risks
Now that IT consumerization has caught on, companies opt for a much more open and agile yet vulnerable IT architecture. These are the risks that must not be underestimated, but they can and should be managed. The first approach is technology-related: give your staff the opportunity to create something on their own, but only within a safe "sandbox". The second approach is educational: teach them to assess potential risks. After all, a security breach caused by an employee is rarely intentional, and in most cases is the result of insufficient thought.