SKOLKOVO Business School and European Industry 4.0 Transformation Center on the Digital Transition
Wednesday, 17 January 2018
Moscow, January 17, 2018. – On January 16, the Corporate Education Department of SKOLKOVO Business School arranged an educational session with the heads of the European Industry 4.0 Transformation Center (Germany, Aachen). The session welcomed members of the Manufacture Club of SKOLKOVO Business School.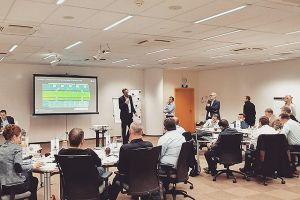 The leading trends in digital transformation are the creation of digital twin and hardware information technologies (including augmented reality). For this purpose companies are moving from computerization to permanent connection with and interconnection of processes, predictability and adaptability of products and management systems at the highest level of digital maturity. The European 4.0 Industry Transformation Center (E4TC) is one of the acknowledged European leaders in this field.
During the educational session participants studied the principles of operation of the digital model of a car factory, looked into the models of the companies' estimations of digital maturity and methods of diagnostics, and became acquainted with simple means of developing augmented reality applications and the Internet of Things. Among the results of the discussion was an understanding of how the largest European ecosystem of technological entrepreneurship operates, and how the roles of the state and participants are distributed in the consortium.
"We are happy to be part of the development of Industry 4.0 in Russia together with our friends and partners from SKOLKOVO Business School," commented Christian Hocken, partner of the European Industry 4.0 Transformation Center.
"Today companies are focusing on standardizing and digitalizing their supply chains and partner networks, optimizing time spent on designing products and bringing them to market as well as creating an ecosystem of digital transformation. Action plans are developed by teams of managers during practice-oriented educational programs," commented Pavel Bilenko, Head of Industry 4.0 Educational Programs in the Corporate Program Department, professor of practice at the Moscow School of Management SKOLKOVO.
Experts from the Industry 4.0 Center (Germany, Aachen) timed their visit to the business school to participate in a corporate educational program on digital transformation for one of the Russian companies.