SKOLKOVO Business School and ILO workshop: how to prepare TVET managers
Wednesday, 25 October 2017
23-24 October 2017, under the Russia-ILO program «Applying the G20 Training Strategy», Moscow School of Management SKOLKOVO organized an international expert workshop «Applying Innovative Approaches to Strengthening TVET Systems and Labor Markets Development».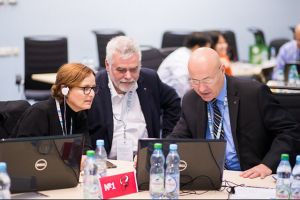 The workshop gathered together participants from Belarus, Brazil, South Africa, Vietnam, Kyrgyzstan, Tajikistan, Russia, ILO, CINTERFOR, Luxembourg –Development Cooperation Agency, UNDP. Two day knowledge-sharing session was dedicated to one of the most critical issues of modern economies – strengthening the capacity of training institutions to deliver training in line with the demand of economic sectors with Russian and international experts in the field of innovative education and training technologies, skills anticipation, as well as government officials and representatives from international organizations sharing best practices in the field of training for TVET managers and skills assessment in TVET sector.
In addition to knowledge-sharing sessions, workshop participants were invited to test a new version of a mass distant training tool for TVET managers – computer simulator «Managing TVET Institution» and an international online Skills Technology Foresight platform.
Computer simulator «Managing TVET Institution» was developed and piloted internationally in Armenia and Vietnam under SKOLKOVO-ILO partnership. Upon successful piloting, the tool was integrated in and used as a part of a training course for TVET managers at the International Training Centre of the International Labour Organization with participants from more than 15 countries. In addition to providing effective training outcomes, the computer simulator was upgraded with a module for conducting diagnosis of strengths and weaknesses of TVET directors enabling to recommend individual improvements and learning paths to train and acquire lacking managerial skills and competences.
Another tool presented to the workshop participants was an international online Skills Technology Foresight platform. The tool allows conducting technically improved skills foresight sessions and creating a database of the foresight results in different economic fields and markets.