SKOLKOVO Business School Alumnae are Among the the EY Entrepreneurial Winning Women 2017
Wednesday, 24 May 2017
Moscow, May 24, 2017. – The awards ceremony of the jubilee Entrepreneurial Winning Women contest was held in Moscow in the evening of May 23. The Moscow School of Management SKOLKOVO is a strategic partner of EY Russia, and its students and alumni regularly win the Entrepreneurial Winning Women and the Entrepreneur of the Year competitions.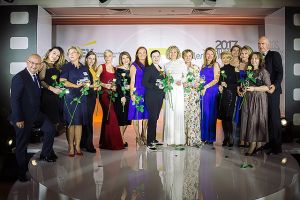 The alumna of Executive MBA-17, Vice President for Marketing at Segezha Group Maria Vasilkova won in the Corporate Finance category.
The alumna of Executive MBA-15, General Director of BUREAU OF TECHNICS Vera Burtseva received a special prize "For the Continuation of a Family Business".
The alumna of the SKOLKOVO Startup Academy Natalya Peryazeva, the founder of Logic Stars Group, The Dom u Parka (The House by the Park)—a boarding house for the elderly, the 7 Gnomes nursery school, and The Skazki u Kamina (Fairy Tales by the Fireplace) NCO, received a special prize "For the Contribution to the Development of a Harmonious Society".
The winners of the Entrepreneurial Winning Women 2017 contest are:
High Technologies category
Natalia Galkina, General Director, Neurotrend

Corporate Finance category
Maria Vasilkova, Vice President for Marketing, Segezha Group

Health and Pharmacy category
Elena Kartasheva, General Director, Abbott

Services category
Vitalina Levashova, Deputy General Director, INVITRO medical company

B2C category
Irina Khodzinskaya, founder of Prostye Veshchi (Simple Things)—a network of gastronomic pubs, New Vintage Prostye Veshchi (Simple Things) and CHEESE Connection restaurants

Production and Industry category
Natalya Zhernovaya, General Director, ESCO New World

Financial and Consulting Sector category
Maria Gracheva, Business Development Manager, Yandex.Money

Social Business category
Yulia Spiridonova-Mikeda, Operations Director, Netology Group Online Education Centre

Special Prize "For the Revival of Traditions"
Natalya Bakushina, Director, Dushystye Radosti (Scented Joys) manufacture

Special prize "Mum-Entrepreneur: With Love to Business"
Alla Komissarova, founder, General Director, chocolatier, La Princesse Choco Chocolate Studios network

Special prize "For Contribution to Charity"
Margarita Fedoseeva, Deputy General Director for Economics and Finance, United Grain Company

Special Prize "For the Continuation of a Family Business"
Vera Burtseva, General Director, BUREAU OF TECHNICS
Sofia Azizyan, EY partner, Entrepreneurial Winning Women Programme Manager, Head of the HR Strategy in the CIS, shared her impressions, "We are very proud that in the five years of the Entrepreneurial Winning Women programme, there has emerged a whole community of successful women who share their experience and inspire one another, attend various events held as part of the programme, and participate in the contest. Our winners are women who are able to overcome obstacles, confidently work towards new goals, realise themselves in different, even traditionally male areas of business, and at the same time live a full and harmonious life. I congratulate the winners of the jubilee contest from the bottom of my heart, and express my gratitude to all programme participants and the winners of the past years, who have been with us all this time: some of them now act as experts at our events and share their knowledge with beginner women entrepreneurs, while others work on the stage, awarding new winners. I hope that our community of business women will continue to grow and promote the development of women's entrepreneurship throughout Russia."
About the Entrepreneurial Winning Women Programme
EY holds its contest as part of its global initiative to support women entrepreneurship and to accelerate women's career growth. The contest was first held in Russia in 2013. The same year, EY launched a programme meant to offer business women educational events that would help them enhance their professional competence, expand networks of business contacts and opportunities, share experiences, receive access to high-quality information resources, and gain equal rights in terms of advancement in business. The Entrepreneurial Winning Women contest is open for successful women entrepreneurs and senior executives of large Russian companies.