SKOLKOVO Business School is a Full Member of the European Foundation for Management Development
Monday, 15 May 2017
Moscow, May 15, 2017. – The Moscow School of Management SKOLKOVO has become a full member of the European Foundation for Management Development (EFMD), a globally recognised international association for the accreditation of European business schools and corporate universities. The main task of the EFMD is to resolve issues related to business education, as well as to help develop educational institutions and establish quality standards for business education through the unified assessment of the educational market throughout Europe.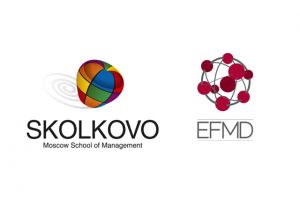 The SKOLKOVO Business School has been cooperating with the EFMD since 2009, when it was granted the status of an associate member. The organisations actively collaborate in the development of educational programmes and case studies. In 2016, the Moscow School of Management SKOLKOVO became the winner of the EFMD Excellence in Practice Awards—an annual international competition that recognises the most notable achievements in the field of business education and organisational development. From Invention to Innovation: Atomic Intrapreneurship at Rosatom business case prepared jointly by the SKOLKOVO Business School and Rosatom State Nuclear Energy Corporation won a silver medal in the Organisational Development category.
The status of a full-fledged EFMD member will give the Moscow School of Management SKOLKOVO the opportunity to introduce new educational schemes with the active support of the Association, to share experience and best practices with the leading business schools in Europe, and to receive an objective assessment of all its educational programmes. Full membership of the SKOLKOVO Business School in the EFMD will be the first step towards its accreditation by the European Quality Improvement System (EQUIS), which confirms the high quality of educational services necessary for building extensive managerial and entrepreneurial skills.
Founded more than 30 years ago, the EFMD unites over 900 institutions in 86 countries. Not only successful business schools, but also consulting companies, small business support centres, chambers of commerce and industry, and training centres are members of the Foundation. In addition, the Association accredits individual MBA programmes and e-learning technologies. All this enables the EFMD to act as a platform for continuous dialogue between educational institutions and users of educational services in the sphere of management, thereby providing a strong link between business schools and large corporations.