Skoltech, Moscow School of Management SKOLKOVO and NES Found Skolkovo Education Hub
Monday, 27 February 2017
Moscow, February 27, 2017. – On February 27, 2017, on the sidelines of the Russian Investment Forum in Sochi, Skolkovo Institute of Science and Technology (Skoltech), Moscow School of Management SKOLKOVO and the New Economic School (NES) announced an official beginning of their cooperation. President of Skoltech, RAS Academician Dr. Alexander Kuleshov, President of the Moscow School of Management SKOLKOVO Andrei Sharonov and Rector of NES Shlomo Weber signed an agreement on the establishment of the Skolkovo Education Hub. Russian Deputy Prime Minister Arkady Dvorkovich was in attendance.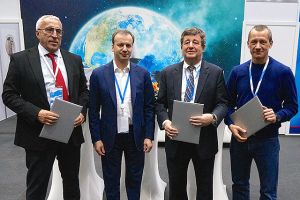 The three leading Skolkovo educational institutions have mapped out a plan for academic cooperation envisaging the development of joint educational programs and implementation of joint research projects.
The parties place special emphasis on the joint development of infrastructure, networking and developing a single academic community for students, professors and alumni. The Skolkovo Education Hub is planning to incorporate e-learning and distance education technologies in its new programs. Leading Russian and foreign professors will be engaged in the Hub's activities. A dedicated Coordination Council will be established with an objective to oversee the Hub's operation.
Alexander Kuleshov, President of Skoltech, "In my opinion, today Russia is in great need of highly qualified professionals, who not only demonstrate solid knowledge in their field of expertise, but also have a profound understanding of domestic and international business processes. There are no doubts that any established physicist, engineer or biologist facing the need of managing a team of subordinates or dreaming of the establishment of an enterprise is capable of learning the basics of management and economics (as the saying goes, "It is not rocket science. Where there is a will, there is a way."). The approach "let's try and see", however, has been the plague of Russia's sustainable technological development, as it often ruined great ideas, destroyed big dreams and successful careers and sometimes chased the investors away. What would be the conclusion? We should join our forces!"
Andrei Sharonov, President of the Moscow School of Management SKOLKOVO, "Global experience clearly demonstrates that businesses prosper only if they are established based on new technologies, the entrepreneurial approach and solid understanding of global macroeconomic processes. And we see it as the core objective of cooperation of our three schools. We expect that within just a few years the synergies between the educational institutions and competencies will produce a tangible effect. Our goal is to create an educational environment fostering a practical application of knowledge and research, which, in the end, would give impetus to the development of the country's scientific and entrepreneurial ecosystem.
Shlomo Weber, Rector of NES, "Nowadays education goes beyond just a mere trade training. And the New Economic School ensures that its students not only gain fundamental knowledge in Economics and Finance, but also learn critical thinking—a combination of skills that makes a world-class specialist, allows to make a positive contribution to the development of the national economy. A wide range of educational programs offered by NES and our colleagues from the Moscow School of Management SKOLKOVO and Skoltech creates a solid base for the development of brand new, in-demand specialty skillsets empowering graduates with cutting-edge knowledge from the fields of economy, technology and management.