INSEAD Professor Manfred Kets de Vries Visits SKOLKOVO Business School
Friday, 10 February 2017
Moscow, February 10, 2017. – INSEAD Professor Manfred Kets de Vries visited the campus of SKOLKOVO Business School. Mr Kets de Vries is an internationally recognized scholar and professor of management who currently teaches at INSEAD business school in Fontainebleau. He is one of the most renowned leadership experts in the world and an author of numerous books.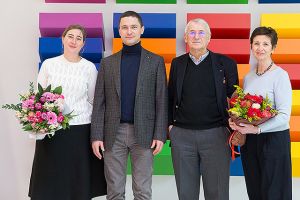 After meeting with the staff and management of the school, Kets de Vries received a certificate of ownership for a "brick" from MANIFESTO art project, one of the most popular symbols of SKOLKOVO Business School. Created by artists Olga & Oleg Tatarintsev, MANIFESTO embodies the spirit of the SKOLKOVO alumni community. The object built out of multi-colored bricks expresses SKOLKOVO principles: the "bricks" are owned by about 20 graduates, professors and guests of honor. This avant-garde art object was opened in September 2014, at the celebration of the 8th anniversary of the Moscow School of Management SKOLKOVO.
Professor Kets de Vries' visit to Russia is organized by YPO Russia, a thought partner of SKOLKOVO business school. YPO Russia is the oldest Russian unit of YPO, the world's largest association of managers and owners of large and medium-sized companies, who must be under the age of 45 years at the moment of joining.