SKOLKOVO Business School launched educational program for managers of TVET institutions
Tuesday, 03 April 2018
Moscow, April 3, 2018. – Moscow School of Management SKOLKOVO has launched an educational program for managers of TVET institutions in Khabarovsk region.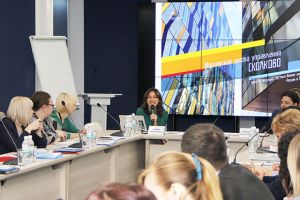 The Khabarovsk region became the first one of five Russian pilot regions selected to participate in the International Programme to Strengthen TVET Systems and Labour Markets in the CIS, Asia and the Middle East. The program is being implemented by SKOLKOVO business school since 2013.
On March 26, the educational program «Managing the changes in the TVET system to strengthen regional economy» was launched, aiming to prepare change-management leaders in the system of secondary education that can implement effective organizational strategies and create modern educational programs.
The educational program was developed by the SKOLKOVO Education Development Center. The key partner organization in Khabarovsk is the Khabarovsk Regional Institute for the Development of Vocational Education. Program participants are directors, deputy directors, heads of divisions of the leading regional colleges. Training consists of 5 modules, 5 days each.
The program combines various training forms, including lectures by professors and experts, case studies, work with computer simulator. Program lecturers are Russian and international experts in the field of education management, new educational technologies, opinion leaders and leading professors of the SKOLKOVO business school. The key element of the program is group work that is guided by moderators and experts. As a result of group work, management teams prepare and defend strategic development projects for their educational institutions before the expert commission.
The expert support of the program is provided by the head of educational programs of Industry 4.0, a professor of practice at the Moscow School of Management SKOLKOVO Pavel Bilenko.
The first module was devoted to the topic of professional education in the era of digital transformation. The main goal of the module was to determine the role of regional colleges in the light of global trends. The expert commission included representatives of regional authorities, leading employers, as well as experts and graduates of the SKOLKOVO business school.
The participants were Vladimir Solodov, Deputy Plenipotentiary of the President of the Russian Federation in the Far Eastern Federal District, Alexander Fedosov, Deputy Chairman of the Khabarovsk Regional Government, and Dmitry Pugachev, Acting Minister of Economic Development.