SKOLKOVO Energy Centre will be headed by Tatiana Mitrova
Monday, 20 February 2017
Moscow, February 20, 2017. – Tatiana Mitrova has been appointed the Director of the SKOLKOVO Energy Centre, one of the research centres of the Moscow School of Management SKOLKOVO. Tatiana is one of the most prominent Russian experts in the field of energy, a world-renowned professional, and the author of numerous studies. She was one of the founders of the Energy Centre in 2011.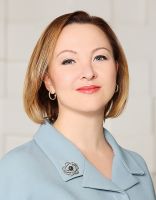 Marat Atnashev, the Dean of the SKOLKOVO Business School, says, "We are happy to welcome an expert of such a high level to work at the Business School. Tatiana Mitrova has been set an ambitious task—to create an advanced Russian independent centre of expertise in the field of energy, which will hopefully be among the leading platforms in this area in the nearest future. The Centre will analyse the energy markets of countries with economies in transition, develop practical recommendations for companies and government authorities on various aspects of the energy industry, organise industry dialogue, and prepare educational programmes for companies in the industry."
Tatiana Mitrova, the Director of the Energy Centre, commented on her appointment: "I am glad to join the Business School team. I hope that my expertise and experience accumulated over the years of work on Russian and international research and educational projects, will serve to further strengthen the status of the SKOLKOVO Business School in the field of high-quality industry expertise in Russia and abroad."
Tatiana Mitrova holds a degree of the Candidate of Economic Sciences, has more than 20 years of experience in the analysis of Russian and foreign energy markets, including the issues of energy production and transport, demand for energy, energy policy, pricing, taxation, and market restructuring. Until recently, she had led the science section at the Energy Research Institute of the Russian Academy of Sciences (ERI RAS). She is the Project Manager of the Global and Russian Energy Outlook up to 2040 project.
She is a Member of the Russian Federation Government Commission on the Fuel and Energy Complex, the Reserve Replacement and Improving the Economy's Energy Efficiency.
She is also a Member of the Board of Directors at Unipro (E.ON Russia until June 2016).
Tatiana Mitrova graduated from the Faculty of Economics, the Lomonosov Moscow State University. She is the Associate Professor at the Gubkin Russian State University of Oil and Gas. She is also the Visiting Professor at the Paris Institute of Political Studies (Sciences Po), Senior Visiting Research Fellow at the Oxford Institute for Energy Studies (OIES), leading Fellow of the Centre on Global Energy Policy at Columbia University, the author of four monographs and over 120 articles in scientific and business journals and collections on energy issues.