The Winners of the Largest SKOLKOVO MBA Grant Competition to Study in the Anniversary MBA-10 Class
Wednesday, 21 November 2018
Moscow, November 21, 2018 — Today, the autumn anniversary MBA-10 class of the international educational programme for executives and entrepreneurs who want to improve their management skills, make a career breakthrough, or bring their business to a new level, has begun training at the SKOLKOVO business school.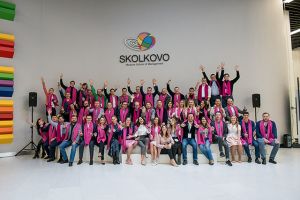 ПThe first day of the programme was traditionally devoted to ice-breaker activities. The MBA-10 students gathered at the SKOLKOVO business school for the first time and took part in the Campus team building quest. In the evening, they attended a meeting with the business school management, as well as SKOLKOVO MBA-5, MBA-6, MBA-7, MBA-8 and MBA-9 alumni.
The 50 students of the new group, who arrived from 7 cities, represent 27 branches of business. 24% of the group are entrepreneurs and business owners, 76% are corporate employees and civil servants. The average age of the group participants is 31 years.
The new class includes those who won in the largest SKOLKOVO MBA grant programme (over 2 thousand applications from 110 cities and towns of Russia and other countries). Two grants of EUR 60,000 each were issued to programme participants to fully cover tuition fees—for the first time in the history of the business school. The competition was held with the support of International Paper, MasterCard, VEB, M.Video, Unilever, PJSC B&N BANK, PJSC NOVATEK, A1 Investment Company, PJSC Severstal, as well as entrepreneurs David Yakobashvili, Leonid Mikhelson, Alexander Tynkovan, Ruben Vardanyan, Sergei Popov, Nubar Afeyan, Dmitry Zimin, Filaret Galchev, and the Patrons Club of the SKOLKOVO business school.
The MBA students will have 17 intense training modules, including two international modules in Hong Kong and Silicon Valley, and the final leadership module in Kamchatka. They will meet leading international professors, Russian experts and practitioners, and will actively work with mentors from among the founding partners and the management of the School. The MBA-10 students will defend their final projects and receive diplomas in the spring of 2020.