SKOLKOVO Business School Announced the Winners of the MBA Grant Programme
Wednesday, 20 December 2017
This week, the Moscow School of Management SKOLKOVO announced the results of a grant contest for the MBA Programme—an international standard programme for future leaders. The grant contest was supported by David Iakobashvili, the founder of Wimm-Bill-Dann, and Leonid Mikhelson, the Chairman of the Board of Directors of SIBUR Holding. The total amount of grants was €160,000.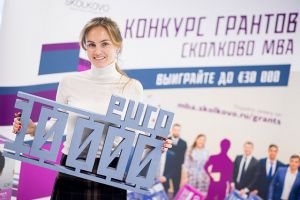 According to results of the project defence, nine participants became grant holders. At the final stage of the grant contest, the winners were chosen by an expert jury, composed of Maxim Feldman, Director of Degree Programmes, Alexander Kim, Chief Financial Officer of the SKOLKOVO Business School, Vitaly Polekhin, Head of the SKOLKOVO Investor Club, Mark Sherman, Director of A1 Communications Department, Andrey Tarasov, Executive Director of Mastercard Russia, Irina Dvoryankina, PR and Sustainable Development Manager of International Paper, Elena Bogacheva, a member of the SKOLKOVO Patrons Club, as well as professors and experts of the SKOLKOVO Business School: Andrey Shapenko, Professor of Practice, Igor Krayevsky, Managing Director of Strategic Partnerships, Alexey Khokhlov, Head of Electric Power at the SKOLKOVO Energy Center, and Pavel Bilenko, Head of Industry 4.0 Educational Programmes.
Sergey Efimov, with a development project of Clever, a publisher of children's books, was announced the winner of the business project contest and received a grant of €30,000.
€20,000 grants were given to Grigory Pikalin, who presented a green service for industrial waste recycling called EcoArchitecture, and Evgeny Eskin with a blockchain platform for factoring.
Three participants won €15,000 grants that covered up to 25% of their project costs:
Arthur Mingazov—mobile micro-investment service;
Pavel Smirnov—New Silk Road transport system;
Alexey Kozhevnikov—Teledoc telemedicine company.
Among the contestants who solved and presented business cases to the commission as a final test, the jury selected three winners: Ildar Akhmetov (€20,000 grant), Mikhail Milekhin (€15,000), Ekaterina Volodchenko (€10,000).
The winners of the grant contest will be admitted to the MBA-9 Programme, which is expected to be launched in 2018.