Moscow School of Management SKOLKOVO Has Launched the Master in Public Strategy Programme
Monday, 10 September 2018
Moscow, September 10, 2018 — The Moscow School of Management SKOLKOVO has launched the Master in Public Strategy programme. This is an author's programme for training state strategists. It was developed by Andrei Volkov, Director of the Institute for Social Strategies, the first Dean of the SKOLKOVO business school, and Sergei Gradirovskiy, Academic Director of the programme. The programme consists of 4 modules in Russia and 1 module in China.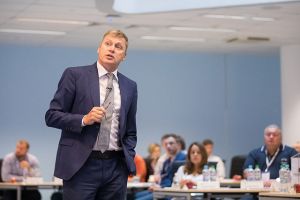 The programme Master in Public Strategy has no direct analogues in world practice, because its goal is to train not administrators, but strategists—those who are ready to develop responsible strategic solutions for the good of the state and society. The programme participants will use the project method, elaborated by the SKOLKOVO business school, to develop concrete steps to transform state and public life.
"We are engaged in work on strategic projects and create conditions for participants to solve social problems right in the classroom in the course of the educational programme. Master in Public Strategy students will create a project to address national problems, because such large-scale ideas often cannot be borrowed from other countries. The knowledge in all other areas—humanitarian, technical, socio-political, methodological—will play a supporting role in this learning process," explains Andrei Volkov.
41 participants attended the programme launch ceremony. They included representatives of federal and regional executive authorities, deputies of regional parliaments, representatives of the largest Russian banks and mining companies, experts and practitioners in social spheres such as education and medicine, business owners, directors, managers and business experts. More than half of the participants are finalists and winners of the Leaders of Russia national contest.
The curator of the project is Alexander Voloshin, a Russian politician, Chairman of the Board of Directors of the SKOLKOVO business school.