Moscow School of Management SKOLKOVO meets the 20th Executive MBA class
16.12.2015
Moscow, December 16, 2015. – Today, the 20th class of the Executive MBA, an international standard educational programme for senior executives and business owners, has been launched at the Moscow School of Management SKOLKOVO.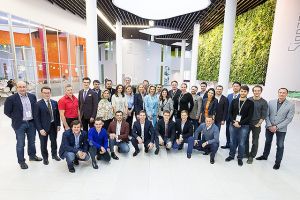 Thirty-nine people, among them business owners (56%) and top managers of large companies (44%), whose managerial experience totals more than 400 years, have become the participants of the Programme.
EMBA-20 has brought together managers from the largest cities of Russia and other countries. The class includes programme participants from Moscow, St. Petersburg, Yekaterinburg, Kazan, Krasnodar, Naberezhnye Chelny, Perm, Rostov-on-Don, Sochi, Surgut, Izhevsk, Ulyanovsk, Chelyabinsk, Nefteyugansk, as well as Orlando, Zurich, Berlin, and Beijing, who represent a variety of industries, such as construction, transportation, investment, energy, accounting, manufacturing, telecommunications, advertising and marketing, medical services, and others. The average age of the group members is 37 years.
"Today, we welcome a new Executive MBA group at the Campus. One in four participants is aged 45 or older; most of them are entrepreneurs. In addition, Group EMBA-20 is geographically diverse, comprising representatives of several continents. Since the start of the Programme in 2009, the business school has launched 20 EMBA classes, and the huge demand for training does not allow us to slow down the pace. Despite the difficult economic situation, entrepreneurs and senior managers prefer to invest in their own professional and personal development and, therefore, are willing to become students again," said Maxim Feldman, Head of the Private Customers Division of the Moscow School of Management SKOLKOVO, graduate of SKOLKOVO Executive MBA-8.
On their first day at the Campus, the participants, by tradition, will play an exciting adventure quest, and in the evening they will be greeted by Andrei Sharonov, Dean of the Moscow School of Management SKOLKOVO, and Vladimir Voloshin, President of the SKOLKOVO Alumni Community. Also, the students and graduates of the business school's diploma programmes will join in the meeting in order to become acquainted with the new participants and share their experience and impressions with the freshmen.
The new class will have 18 months of intensive training, 17 educational modules, 14 core business subjects, 2 comprehensive courses "Leadership" and "Business Development," and 2 international modules in China and the United States. They will also have to work at their own projects aided by experts and mentors of the business school. Tomorrow, EMBA-20 will immerse into the learning process, which begins with a module on General Management conducted by Professor Keith Goodall, CEIBS.