SKOLKOVO Education Development Centre issued new research "Greenfield" Era in Education"
10.10.2013
Moscow, October 10, 2013. - The Moscow School of Management SKOLKOVO's Education Development Centre has issued new research "Greenfield" Era in Education". The centre's experts analyzed key trends that determine the current situation and core principles of the future development of education, emphasized rapid development of online education assessed the branch state in Russia and formulated actual recommendations.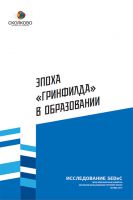 The researchers highlight the following trends: mass education formats, internalization, turbulence of the world economy, "digital revolution". Due to those trends and external factors the current educational landscape is dramatically changing. As the SKOLKOVO Education Development Centre's experts note the "greenfield" era in education is starting right now. It means that new space is being developed, where a new infrastructure for startups development is being built. Educational startups based on new technologies – the so called "EdTechs" – are rapidly developing. The investment volume into such projects has increased tenfold in compassion to the year 2002.
However the experts emphasize that the "digital revolution" and educational technologies boom has barely affected Russia yet. There is a real risk to miss another technological revolution – in education – and continue investing in development of traditional educational solutions while the leading world players are switching to a new technological setup.
---