Prime Minister of Russia Dmitry Medvedev congratulated SKOLKOVO Business School on the international accreditation
Monday, 17 June 2019
Moscow, 17 June 2019 — Prime Minister of the Russian Federation Dmitry Medvedev congratulated SKOLKOVO Business School on receiving international accreditation EQUIS EFMD. The official telegram was sent to the staff of the business school and posted on the official website of the Government: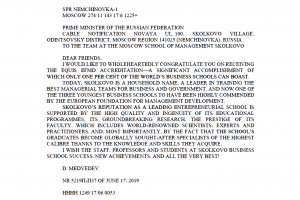 "I would like to wholeheartedly congratulate you on receiving the EQUIS EFMD accreditation — a significant accomplishment of which only one per cent of the world's business schools can boast.
Today, SKOLKOVO is a household name, a leader in training the best managerial teams for business and government, and now one of the three youngest business schools to have been highly commended by the European Foundation for Management Development.
SKOLKOVO's reputation as a leading entrepreneurial school is supported by the high quality and ingenuity of its educational programmes, its groundbreaking research, the prestige of its faculty, which includes world-renowned scientists, experts and practitioners, and, most importantly, by the fact that the school's graduates become globally sought-after specialists of the highest calibre thanks to the knowledge and skills they acquire".
SKOLKOVO Business School has received the international accreditation EQIUS EFMD - European Foundation for Management Development on June 11, 2019.
Dmitry Medvedev has been the Chairman of the International Advisory Board of the Moscow School of Management SKOLKOVO since 2006. The Board brings together representatives of large companies and the most active public and political figures from Russia or other countries. The Board provides strategic advice and determines the further development of the business school.
---