A New Group Starts Training under the SKOLKOVO Practicum Global Shift-2 Programme
Tuesday, 09 October 2018
Moscow, October 9, 2018 — The second group of students from five cities of Russia—Moscow, Cherepovets, Novosibirsk, Yekaterinburg, Magnitogorsk—have begun training under the Practicum Global Shift programme at the Moscow School of Management SKOLKOVO.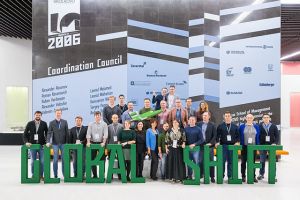 Among the main objectives that the Practicum Global Shift programme participants intend to achieve during the training are to choose a strategy, to define an action plan, to share experience, to learn to think globally rather than locally, to overcome administrative barriers in other countries, to enter the US and Canadian markets, to change the company's turnover pattern (to get 80% of profits from the international market), and to win a place in the group of innovation leaders.
During the programme, each 'globalshifter' will work on the case of his or her own company: determine its place in the global market, develop its international strategy, test it and conduct an experiment, find resources to play in the international arena, and make new useful connections. In addition, training and practising in the educational laboratory will help them avoid mistakes and save the company's funds in real life.
In total, the Practicum Global Shift-2 group includes 23 people that comprise 5 top management teams from 13 companies operating in different business sectors, such as IT, industrial chemistry, logistics and transportation, mechanical engineering, metalworking, fintech, engineering, and the veterinary industry.
SKOLKOVO business school wishes all programme participants successful training and effective practice in our educational laboratory. We hope that all participants in our programmes will learn how to maximise their international capabilities and establish effective interaction with the outside world.
---