SKOLKOVO Business School Launches Startup Academy-19
Saturday, 27 October 2018
Moscow, October 27, 2018 — Entrepreneurs from different countries of the world will receive training under the Startup Academy-19 programme at the SKOLKOVO business school.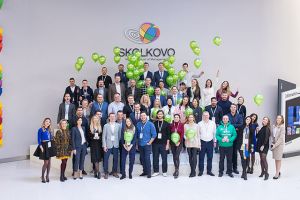 46 people have enrolled in the programme. They are from Krasnodar, St. Petersburg, Novosibirsk, Vladimir, Smolensk, Izhevsk, Sochi, Kazan, Almaty, and London. Among them are business owners, CEOs and business angels who intend to develop their projects or start their own businesses from scratch. The average age of the participants is 33 years.
The training under the Startup Academy-19 programme will last 4 full days per month over 5 months. After each module, the participants will be able to apply their newly acquired knowledge in practice and share the results they have achieved with a personal coach and business practitioners. At the final stage of training at the Startup Academy-19, the participants will defend their projects during the Investor Day.
The process of study is expected to be very interesting: the participants represent 13 various business areas, have different experience and they are all eager to actively implement their business ideas.
---