SKOLKOVO Business School Launches a New SKOLKOVO Educational Programme — Practicum Global Shift
Monday, 29 January 2018
Moscow, January 29, 2018. – SKOLKOVO Business School Campus has opened its doors to the first class of Practicum Global Shift. The new educational programme is designed as an innovative laboratory for ambitious entrepreneurs who want to learn how to manage their future.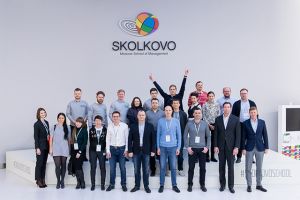 The first class contains 18 students. All of them are managing owners and operational directors of businesses from various industries: HoReCa, machinery, IT and telecommunications, trade and manufacturing, financial services, and many others. The average management experience of the group is 11 years. The average age of the members is 36 years. The students come from seven cities of Russia: Barnaul, Yekaterinburg, Moscow, Novosibirsk, Omsk, St. Petersburg, and Khabarovsk. Some students of the Practicum Global Shift Programme are graduates of the SKOLKOVO Business School. There are also several scholarship holders from the National Technology Initiative (NTI) and a holder of the international development grant from the Russian Export Center.
Throughout the programme, the students will work with case studies of their own companies: identify their place in the global market, build and test an international strategy, analyse the necessary resources and quick ways to raise them for playing in the "world league". The educational programme is targeted at entrepreneurs and top teams who have succeeded in the Russian market and are planning to internationalise their business.
Elena Bondarenko, Director of the SKOLKOVO Practicum for Directors and Practicum Global Shift Programmes: "The expected GDP growth in 2018 will be 1.7%, which means that the opportunities for business development in domestic markets aren't obvious. If you are sure that your product or service has some global competitive advantages, now it's time for you to enter the international markets. The objective of the Practicum Global Shift Programme is to develop global entrepreneurial thinking and to build an international strategy for companies that are not afraid of taking this step. Practicum Global Shift will help entrepreneurs and managers look beyond the obvious opportunities and determine whether their product is global and competitive. But most importantly, the programme will contribute to building an international business model because only 2% of the global demand is concentrated within the Russian market. So why should we not look for it beyond our current marketplace?"
Practicum Global Shift is an innovative content-rich programme. The students will go through an intensive five-month course in Russia and China. They will learn to understand trends and design the global future for their business ideas, think over and build a global development model for their company. The international module will allow everyone to learn how to establish and capitalise a regional business, and how to effectively use available resources. At the end of the training course, the students will present their pilot projects for entering new markets to the expert council of the Business School.