International competitiveness is a key factor for countries' strategic success - IMD 2020 World Competitiveness Ranking
Tuesday, 16 June 2020
Lausanne, Moscow, June 16, 2020. – The Institute for Management Development (IMD) in Switzerland has published the well-respected World Competitiveness Ranking 2020 (WCR). The Moscow School of Management SKOLKOVO is the Russian Partner Institute for the IMD's World Competitiveness Center, providing data from national sources to compile the Ranking.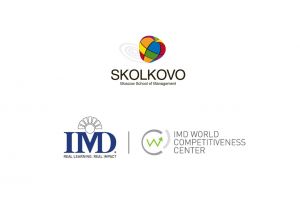 The Ranking was based on the combined responses in Q1 2020 from business executives on questions about how they perceive their country's economy and hard data from 2019. Economies are ranked on economic performance, government efficiency, business efficiency and infrastructure, with five sub-factors within each of these four categories. According to the results of the Ranking, there is a trend of the current strength of many small economies. Their effectiveness has become much more noticeable on the international scale.
Singapore has retained its number one position for the second year in the IMD World Competitiveness Ranking 2020 (WCR) for the second year in a row. It is followed in top-5 by Denmark, Switzerland, the Netherlands and the Hong Kong SAR. Russia has lowered its position in the Rating from 45th to 50th place.
Professor Christos Cabolis, Chief Economist, IMD World Competitiveness Center:
"By the end of 2019 the global economy was already starting to look shaky, and Russia's declining exports was one of the first tangible signs of this. Business sentiment, measured through our Executive Opinion Survey, also showed small declines across the board. However, with its large internal market many of Russia's long-term indicators such as health, education, research and business finance continued to show stability. This resilience bodes well for Russia's rebound from the current situation."
Vladimir Korovkin, Professor of practice at the Moscow School of Management SKOLKOVO notes:
"In today's globalized and interconnected world, international competitiveness is a key factor for countries' strategic success. Russia still shows an ambiguous picture: with such strengths as a large domestic market and a high level of education, it loses first of all in the strength and effectiveness of institutions — common rules by which economic life is organized. It is in the area of institutional development that the key to the strategic success of the Russian economy lies."
Singapore's success factors are its strong economic performance in international trade and investment, employment, and labour market measures. Stable indicators in the education system, technological infrastructure — telecommunications, Internet bandwidth and high-tech exports also play a key role.
Denmark has excelled in international investment and productivity, and the country has become a European flag carrier in terms of business efficiency. In addition, Denmark has a positive assessment of the level of health and education.
Switzerland continues to move forward in the Ranking. Sustainable international trade affects high economic indicators. Scientific infrastructure, health care and education systems demonstrate stable indicators.
For the second year in a row, the USA failed to return to the top spot in the Ranking, — 10th in 2020 and 3rd in 2019. Trade wars have damaged both the USA and Chinese economies, changing their positive growth. China has dropped to 20th position this year from 14th last year.
According to the Ranking in terms of infrastructure, East Asia is the leader in technological and scientific infrastructure, while Western Europe leads the regional rankings in sub-factors of health, environment and education.
The analysis of economic indicators shows that North America and East Asia are performing well in terms of international investment and employment.
About the IMD World Competitiveness Ranking. Now in its 32nd year, it supplies data on 63 economies and works with a variety of governmental and private sector Partner Institutes to do so. It is a renowned global authority on competitiveness with libraries, governmental agencies, research centers and media outlets relying on its data on an ongoing basis. More information about the Rating here: LinkedIn, Twitter, Instagram and Facebook.
About IMD — The Institute for Management Development (IMD) is an independent academic institution with Swiss roots and global reach, founded almost 75 years ago by business leaders for business leaders. Since its creation, IMD has been a pioneering force in developing leaders who transform organizations and contribute to society. Based in Lausanne (Switzerland) and Singapore, IMD has been ranked in the top three of the FT's annual Executive Education Global Ranking for the last nine consecutive years and in the top five for 17 consecutive years. Our MBA and EMBA programs have repeatedly been singled out among the best in Europe and the world.
The Moscow School of Management SKOLKOVO is one of the leading private business schools in Russia and the CIS. It was founded in 2006 by members of the business community. The school's founding partners are 8 Russian and multinational firms and 11 individuals, each a leader of Russian business. Moscow School of Management SKOLKOVO offers programmes for businesses of any type and size – from startups to large multinational corporations.
Moscow school of management SKOLKOVO has one of the most prestigious international accreditation EQUIS EFMD. The School is the official member of the GNAM Association, which unites 30 leading business schools from around the world, and the international network of the world's best business schools GBSN. In 2020, SKOLKOVO became the only one in Eastern Europe to be ranked in the Financial Times top 50 for corporate programs, and the gold medalist of the EFMD Excellence in Practice 2020 international business case competition.
---