Moscow School of Management SKOLKOVO shifts educational programs and events
Tuesday, 17 March 2020
Moscow, March 17, 2020. – 17 March 2020, according to the latest Order of the Mayor of Moscow dated March 16th, on additional necessary measures to prevent the spread of coronavirus (COVID-19), the Moscow School of Management SKOLKOVO temporarily suspends educational programs and activities.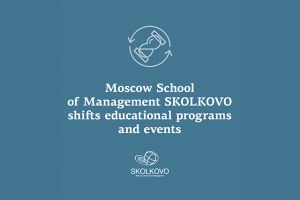 All the educational modules (with the exception of those that are currently taking place at the School), public events, panel discussions, and intraschool activities have been postponed until April 19. The hotels and sports centres on the campus will temporarily cancel their activities.
Andrey Sharonov, President of the Moscow School of Management SKOLKOVO:
"We appreciate the trust of the students, staff, professors and guests of the School. In the current situation, the safety and health of everybody comes to the fore. Performing in line with the orders of Regional and Federal authorities, we have suspended activities at our campus, but remain online. The School team will continue to work on new programmes and current educational formats, plan new events for all members of the community."
Business schools and universities in most countries of Europe and the United States have stopped full-time programmes, some of them offer students to study online.
Evgeny Kaganer, Dean for Academic Affairs of the Moscow School of Management SKOLKOVO:
"Experiments with new educational formats, including online, have been relevant for leading business schools and universities around the world in recent years. In my opinion, the current situation in the world will serve as an additional motivation to develop educational innovations, focus on new approaches to the formation of programmes and working with a dispart audience. The forced and temporary suspension of full-time work at the SKOLKOVO Business School opens up the possibility for us to launch several multi-modal and distance learning pilots."
We will inform you about all next procedures at the SKOLKOVO Business School and the dates of the postponed educational programmes and events.
---
Order of the Mayor of Moscow dated March 16th, 2020 (in Russian)
---