Marina Karban Joins UNICON Board
Friday, 06 December 2019
Moscow, December 6, 2019 — The last meeting of UNICON Board has selected Marina Karban, Director of SKOLKOVO Custom Programmes, to serve as a full Board member until July 2024.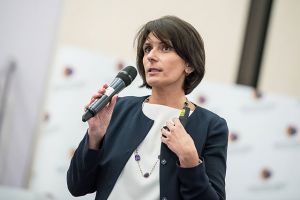 UNICON is a global consortium whose members are the world leaders for executive education. Its major efforts include joint conferences, surveys, educational evaluation and exchange of best practices, professional development for teaching teams, information sharing, and broader partnerships to enable UNICON to always stay at the forefront of executive education.
Moscow School of Management SKOLKOVO has been a UNICON member since 2010. It is an annual participant of the UNICON Directors Conference and a contributor to the UNICON Membership Benchmarking Survey.
Earlier this year, on April 24-26, 2019, the campus of Moscow School of Management SKOLKOVO hosted the global UNICON Directors Conference. This major annual event took part in Russia for the first time ever and was a result of intensive three-year consultations. It was attended by 78 executive education leaders from 53 world top business schools, including MIT Sloan School of Management, Berkeley, University of California, HEC Paris, IMD, Cranfield School of Management, Singapore Management University, HKUST, BI Norwegian Business School, CEIBS, Columbia University, IE Business School, IESE, IBS India, etc. The mission of the Directors Conference is to discuss the most pertinent challenges and future prospects of executive education and share the best practices in providing educational programmes.
Marina Karban has been developing SKOLKOVO Custom Programmes for 10 years. She has been acting as the leader of the Executive Education since 2015 and is responsible for selling, building and delivering custom and public programmes for both Russian and international corporations, which have been historically a fundamentally important segment in the business school's overall portfolio.
The Executive Education offers custom programmes to a number of corporate customers, including Roscosmos State Corporation, URSC, JSC, Multon, JSC, Unilever, Rosatom State Atomiс Energy Corporation, Russian Railways, JSC, Rossetti, PJSC, VTB Bank (PJSC), Gazprom Neft, PJSC, MTS, PJSC, Rostelecom, PJSC, SIBUR Holding, PJSC, etc., while the number of students has risen to 22,000.
---